The Occupational Health and Safety (OHS) Fundamentals Certificate is designed for those who are or would like to work in roles such as front line service providers, administrative support positions, and junior technician roles working in OHS. Practitioners in these roles may work in non-profit, government/public and corporate industries including energy, IT, grocery, mining, and retail.
Students examine the foundational concepts of OHS roles and responsibilities; the culture of health and safety, and safety regulations; the laws and enforcement that guide safety; and the concept of risk.
Safety performance measures are explored including research and investigation, and data collection for analysis and review. Human behaviour and its impact on and reaction to accidents will include cognitive, behavioural and psychobiological reactions in response to emergency situations, decision making, interpersonal communication, and organizational process conformity.
By the end of the program, successful students will be able to:
Recognize commonly applied theories and systems
Recall how OHS management systems are used to create a culture of safety through regulations and enforcement guidelines
Identify safety performance measures and the benchmarks used to assess safety, collect data for research, and investigate safety concerns
Practise safety compliance and policy enforcement
Analyse human behaviour as it relates to OHS
Interpret how accidents and emergency situations impact human behaviour, including decision making, communications and process conformity
---
This program is perfect if you...
Work, or aspire to work, in the OHS field in government, corporate, or non-profit sectors

Seek knowledge that meets the needs of progressively demanding levels of responsibility in the OHS field

Plan to pursue CRST or CRSP® designations

Want to pave the way for career advancement
---
Laddering
The full 800-hour Occupational Health and Safety program consists of two certificates and a diploma. This is the first certificate in the program.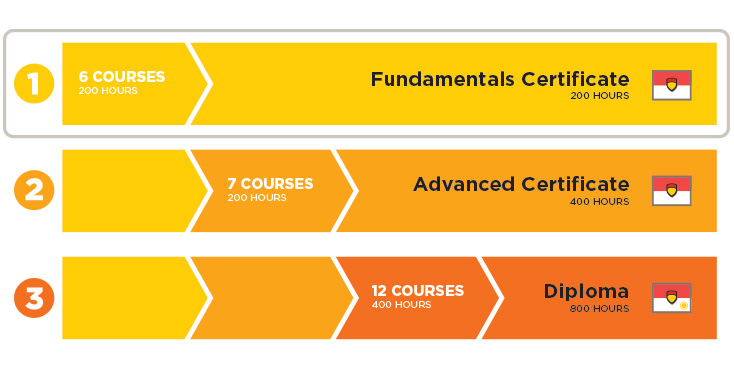 After completing the Occupational Health and Safety Fundamentals Certificate, you will have the admission requirements for the Occupational Health and Safety Advanced Certificate. This is the recommended path for those interested in pursuing the Canadian Registered Safety Technician (CRST) certification.
---
What will I get?
Students who complete this program will receive a Professional Certificate.
---
Program details
Courses in this program are delivered online. Courses are scheduled at convenient times, allowing you to complete the program at a pace that fits your life.
You should plan on studying and working approximately 6 hours per week per course.
Online learning fits into busy schedules by taking the learning experience out of the traditional classroom. Students have online access to instructors, fellow learners, and learning materials.
Before taking your first online course, we recommended taking our free course: Digital Skills for Learning Online
Instructors
Occupational Health and Safety instructors are industry practitioners and experts. Typically they have a baccalaureate degree, hold a current Canadian Registered Safety Professional (CRSP)® designation, and have at least five years of direct OHS experience.
All Continuing Education programs are developed with part-time learners in mind. The Occupational Health and Safety Fundamentals Certificate is a 200-hour program.
The length of time it takes to complete this program varies by student. If you take one course per term, you will likely complete the program in a year and a half. You will complete the program faster if you take multiple courses per term.
The Occupational Health and Safety Fundamentals Certificate is the first in the laddered OHS program. The second and third programs include the Occupational Health and Safety Advanced Certificate and the Occupational Health and Safety Diploma. If you take one or two courses per term, you will likely complete the entire OHS program in three to four years.
The approximate cost to complete Occupational Health and Safety Fundamentals Certificate is $3,639.
This includes the $105 admission fee.
You do not require a degree or diploma to apply for admission to this program. You can take individual courses to start, and apply later.
The admission fee is $105.
To apply, you must meet the following requirements:
Programs change from time to time, so we recommend that you apply for admission as early as possible. Once admitted, your requirements to complete the program will not change – even if the program changes. You can be confident that completed and eligible courses will apply to your program.
Apply for Admission
Prior learning from other post-secondary institutions
Advanced standing may be granted for equivalent, graded courses completed at other post-secondary institutions within the last 10 years. Credit may be granted up to a maximum of 60 hours towards the Occupational Health and Safety Fundamentals Certificate.
Apply for Advanced Standing
---
Transferring credit from other Continuing Education programs
If you have completed requirements for another University of Calgary Continuing Education program, you may be able to transfer some credits to this program. For details, please review the "Credit towards other programs" information in the programs you have completed. To transfer credits, please contact a student advisor.
---
Maximum advanced standing and transferred credit
The combined total of advanced standing and transferred credits cannot exceed 100 hours for this program.
On completion of this program, you may wish to pursue studies in another.
On completion of the Occupational Health and Safety Fundamentals Certificate, the following hours of equivalent courses may be transferred toward certificates in:
If you wish to pursue another program:
Complete the Application for Admission for your next program
Contact us to request transfer of the equivalent course credits
The transfer of course credits will not happen without your request.
Each year, scholarships and awards are given to deserving students not only for their academic achievement, but also for community involvement. Award sponsors include both corporate and private donors.
To apply, you must meet eligibility criteria and submission deadlines. Students in this program may be eligible for the following awards:
It is the student's responsibility to ensure all requirements for graduation are fulfilled.
See Graduation for details.
This program does not qualify students to apply for an international study permit.
International students who wish to live and work in Canada should consider our International Professional Programs.