This program is designed to prepare learners for a successful career in information security or cybersecurity. You will learn the required skills, knowledge, and abilities across a wide array of security practices and principles. Upon successful completion of the program, you will be able to effectively design, engineer, and manage the overall security posture of an organization, and become familiar with a variety of controls for both data and systems.
Information Systems Security covers all eight domains of practice codified in the Certified Information Systems Security Professional (CISSP) Common Body of Knowledge (CBK). Upon completion of the program, along with additional study, you will be able to challenge the CISSP certification exams. Successful candidates who pass the exam will require a minimum of five years cumulative paid work experience in two or more of the eight domains to become a CISSP. Candidates who do not have the required experience to become a CISSP may become an Associate of International Information System Security Certification Consortium (ISC)2 by passing the CISSP examination. The Associate of (ISC)2 will have six years to earn the five years required experience.
By completion of this program, successful learners will be able to:
Demonstrate knowledge in security management, including risk assessment and management, security controls, security policies, and laws and regulations compliance
Explain and apply effective asset security, including strategies to identify, categorize, secure, and monitor assets throughout the information lifecycle
Explain and use security architecture and engineering principles in the design and organization of the components, processes, services and controls to reduce the security risks associated with a system to an acceptable level
Explain and apply secure network design principles in various aspects of computing networks, interconnections, networked devices, and communication processes related to information security
Demonstrate knowledge of essential concepts and technologies involved in identity and access management, including understanding the requirements for identity information, choosing and implementing systems that meets those requirements, and ensuring administrative controls
Describe and use tools and techniques to assess an organizations' security posture, including both active and passive testing methods, as well as physical and logical security assessments
Demonstrate knowledge in maintaining the various aspects of an organization's security controls in a functional state, as well as the processes and procedures needed to maintain security across people, processes, and technology
Describe the processes and tools used to secure software applications throughout the software development life cycle, which includes the developing environment, fundamental software components such as operating systems, and the applications used to handle data
---
This program is perfect if you...
Are a recent graduate of an IT or Computer Science degree, associate degree, diploma who plans to challenge the CISSP exams to become Associate of (ISC)2

Are an experienced IT professional who is keen to become a manager, director, senior specialist, or chief information security officer

Want to learn the technical skills needed for a career change to cybersecurity or information security

Are an IT infrastructure or cybersecurity professional looking to learn new in-demand skills
---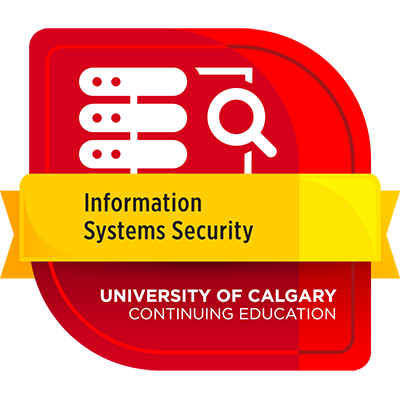 What will I get?
Students who complete this program will receive a Digital Badge.
---
Program details
Courses in this program are delivered online, with mix of synchronous and asynchronous sessions. Courses are scheduled at convenient times, allowing you to complete the program at a pace that fits your life.
You should plan on studying and working approximately 10 to 15 hours per week per course in addition to the scheduled lectures and tutorials.
Online learning fits into busy schedules by taking the learning experience out of the traditional classroom. Students have online access to instructors, fellow learners, and learning materials.
Before taking your first online course, we recommended taking our free course: Digital Skills for Learning Online
All Continuing Education programs are developed with part-time learners in mind. Information Systems Security is a 96-hour program.
The length of time it takes to complete this program varies by student. If you take all four courses in one term, you will likely complete the program in three months.
The approximate cost to complete Information Systems Security is $3,196.
You do not require a degree or diploma before starting this program.
To apply, you must meet the following requirements:
Students will be automatically admitted when they register for any of the following courses:
---
Recommended prerequisites and proficiencies
In addition to the requirements above, it is recommended that you have the following education and/or experience before starting Information Systems Security...
You are a recent graduate of a degree, associate degree or diploma in information technology, computer science, or a related field
OR

You have a minimum of 2 years experience working in information technology infrastructure or cybersecurity
OR

You have completed CSC 110 Network Plus, CSC 120 Linux Plus, and CSC 130 Security Plus
Each year, scholarships and awards are given to deserving students not only for their academic achievement, but also for community involvement. Award sponsors include both corporate and private donors.
To apply, you must meet eligibility criteria and submission deadlines. Students in this program may be eligible for the following awards:
It is the student's responsibility to ensure all requirements for graduation are fulfilled.
See Graduation for details.
This program does not qualify students to apply for an international study permit.
International students who wish to live and work in Canada should consider our International Professional Programs.
Receive a discount of 10% per course by registering for all four courses at the same time.
Register online or by calling 403-220-2866 or 1-866-220-4992. Some restrictions may apply (i.e., all courses must take place within the current academic year).