Business acumen impacts all levels of an organization, from strategy and culture to marketing and finance. As your leadership responsibilities increase, the need to focus on the big picture, nurture relationships and recognize the impact of every decision on the strategic and financial goals of the organization is crucial to working effectively.
Discover strategies to communicate the current state and justify business decisions to key stakeholders within the organization. Learn how to integrate data and financials into the strategic decision making process and apply a system thinking approach to optimize your decisions.
Learning Outcomes
Examine how you can apply strategic thinking to work projects and add value to your organization's strategic plans
Explore basic components of financial literacy
Recognize the financial challenges and opportunities of implementing a strategy
Perform competitor analysis and use the information to establish strategic competitive advantage
Investigate frameworks to assess options, define a course of action and/or create solutions that can be implemented to address business needs
Analyze the concepts of systems, systems thinking, complexity and their implications for the workplace
---
This program is perfect if you...
Want to learn techniques that will help you assess the current state and evaluate the risks impacting your business

Want to understand the basic components of financial literacy

Want to apply these program hours towards the Certificate for Front Line Leaders
---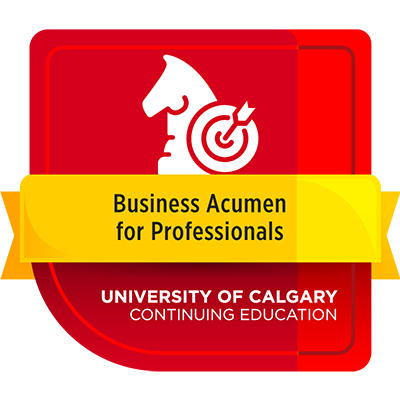 What will I get?
Students who complete this program will receive a Digital Badge.
---
Program details
Courses in this program are delivered online and in class. Courses are scheduled at convenient times, allowing you to complete the program at a pace that fits your life.
You should plan on studying and working approximately 6 hours per week per course.
Online learning fits into busy schedules by taking the learning experience out of the traditional classroom. Students have online access to instructors, fellow learners, and learning materials.
Before taking your first online course, we recommended taking our free course: Digital Skills for Learning Online
All Continuing Education programs are developed with part-time learners in mind. Business Acumen for Professionals is a 42-hour program.
The length of time it takes to complete this program varies by student. Students may complete the program in as little as three months.
The approximate cost to complete Business Acumen for Professionals is $1,887.
On completion of this program, you may wish to pursue studies in another.
Upon completing Business Acumen for Professionals, all 42 hours of seminar credit can be transferred to the Certificate for Front Line Leaders.
If you wish to pursue another program:
Complete the Application for Admission for your next program
Contact us to request transfer of the equivalent course credits
The transfer of course credits will not happen without your request.
Each year, scholarships and awards are given to deserving students not only for their academic achievement, but also for community involvement. Award sponsors include both corporate and private donors.
To apply, you must meet eligibility criteria and submission deadlines. Students in this program may be eligible for the following awards:
It is the student's responsibility to ensure all requirements for graduation are fulfilled.
See Graduation for details.
This program does not qualify students to apply for an international study permit.
International students who wish to live and work in Canada should consider our International Professional Programs.