This program prepares you for entry-level jobs in information and communications technology (ICT). You will learn in-demand skills and technical knowledge in Linux systems and computer networking, with electives in Python programming and information security foundations.
This program also prepares you for CompTIA certification exams. After completion of the program, you can opt to attempt the recognized CompTIA Network+, Linux+ and Security+ industry certification exams, which are commonly required by top employers like Apple, Intel, HP, Dell, Booz Allen Hamilton, and more.
By completion of this program, successful students will be able to:
Demonstrate programming and scripting skills
Analyze, design and document computing solutions and systems to meet clients' needs
Apply troubleshooting techniques in computer network and Linux-based systems
Analyze and resolve security issues in networks and computer systems to align with industry best practices
Graduates of the Network and Linux System Administration Program are prepared for a wide range of IT jobs, including System Administrator, Network Administrator, Technical Support Specialist, Network Engineer, Support Technician, and Security Administrator.
---
This program is perfect if you...
Are taking your first steps towards learning networking, security, programming, and scripting languages

Are transitioning your career to IT
---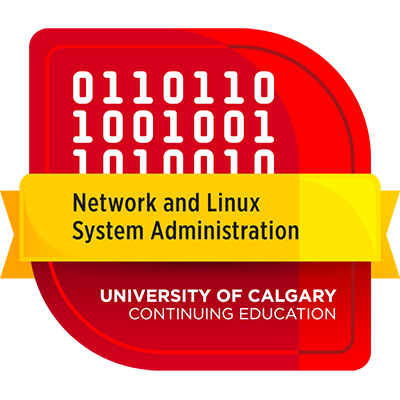 What will I get?
Students who complete this program will receive a Digital Badge.
---
Program details
Courses in this program are delivered online. Courses are scheduled at convenient times, allowing you to complete the program at a pace that fits your life.
You should plan on studying and working approximately 6 to 10 hours per week per course.
Online learning fits into busy schedules by taking the learning experience out of the traditional classroom. Students have online access to instructors, fellow learners, and learning materials.
Before taking your first online course, we recommended taking our free course: Digital Skills for Learning Online
All Continuing Education programs are developed with part-time learners in mind. Network and Linux Administration is a 90-hour program.
The length of time it takes to complete this program varies by student. If you take all three courses in two terms, you will likely complete the program in six months.
The approximate cost to complete Network and Linux Administration is $1,497 to $1,827.
You do not require a degree or diploma to apply for admission to this program.
To apply, you must meet the following requirements:
Students will be automatically admitted when they register for one of the following courses:
Each year, scholarships and awards are given to deserving students not only for their academic achievement, but also for community involvement. Award sponsors include both corporate and private donors.
To apply, you must meet eligibility criteria and submission deadlines. Students in this program may be eligible for the following awards:
It is the student's responsibility to ensure all requirements for graduation are fulfilled.
See Graduation for details.
This program does not qualify students to apply for an international study permit.
International students who wish to live and work in Canada should consider our International Professional Programs.