Cloud computing is rapidly expanding into all areas of businesses, creating new and exciting career opportunities. These opportunities cover a broad range of roles, from developers and architects to security professionals and data scientists.
This program is ideal for anyone taking the first steps into technology, or considering a career change into the field. It will give you the fundamental knowledge of cloud concepts and core Azure services, as well as fundamental principles of machine learning and core date concepts including modern data warehouse in Azure.
By completion of this program, successful learners will be able to:
Describe core cloud concepts and core Azure services
Describe general security, network security features and management tools of Azure
Describe fundamental principles of machine learning on Azure, and Azure services in Computer Vision, Natural Language Processing and Conversational AI
Describe core data concepts in Azure, including relational data and non-relational data
Identify components of a modern data warehouse in Azure
---
Microsoft Certification
This program prepares you for the following three Microsoft Fundamentals Certification exams.
---
This program is perfect if you...
Are taking the first steps to learn about cloud computing

Are considering a career change in cloud computing

Have experience in other cloud providers (like AWS or Google Cloud) but would like to learn about Microsoft Azure Cloud
---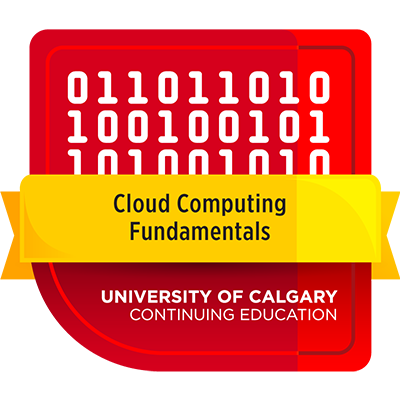 What will I get?
Students who complete this program will receive a Digital Badge.
---
Program details
Courses in this program are delivered online. Courses are scheduled at convenient times, allowing you to complete the program at a pace that fits your life.
You should plan on studying and working approximately 6 to 10 hours per week per course.
Online learning fits into busy schedules by taking the learning experience out of the traditional classroom. Students have online access to instructors, fellow learners, and learning materials.
Before taking your first online course, we recommended taking our free course: Digital Skills for Learning Online
All Continuing Education programs are developed with part-time learners in mind. Cloud Computing Fundamentals is a 45-hour program.
The length of time it takes to complete this program varies by student. If you register for all three courses in the same term, you will complete the program in less than three months.
The approximate cost to complete Cloud Computing Fundamentals is $1,497.
You do not require a degree or diploma before starting this program.
To be admitted, you must meet the following requirements:
Students will be automatically admitted when they register for the course ICT 902 Microsoft Azure Fundamentals.
Become Microsoft Certified
This program prepares you for the following three Microsoft Fundamentals Certification exams.
Each year, scholarships and awards are given to deserving students not only for their academic achievement, but also for community involvement. Award sponsors include both corporate and private donors.
To apply, you must meet eligibility criteria and submission deadlines. Students in this program may be eligible for the following awards:
It is the student's responsibility to ensure all requirements for graduation are fulfilled.
See Graduation for details.
This program does not qualify students to apply for an international study permit.
International students who wish to live and work in Canada should consider our International Professional Programs.
Receive a discount of 10% by registering for all three courses at the same time.
Register online or by calling 403-220-2866 or 1-866-220-4992. Some restrictions may apply (i.e., all courses must take place within the current academic year).