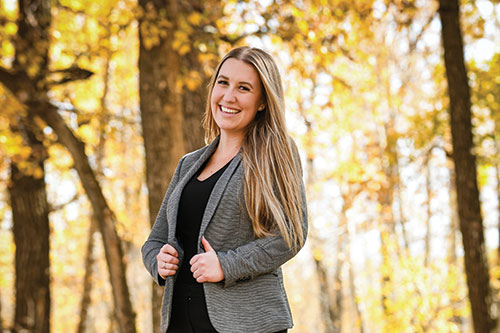 Ashley Mullen began her learning journey with Continuing Education right out of high school, graduating from the original Health Safety and Environment Certificate program in 2017. She wanted to further her education in a related field and recently graduated from the Professional Management Certificate program specializing in Risk Management. Working as a Health, Safety and Environment (HSE) Manager in steel fabrication she found the courses complimented her current role while at the same time, taught her new skills that she directly applies in work. "This learning has created a solid foundation to stand on," she says.
All but one of Ashley's courses were offered online. She describes the online learning experience as "amazing and now with the integration of Zoom, these virtual classrooms have really come alive. I am so excited for the University and the direction they are heading with e-learning."
Ashley found the instructors to be well known in the industry and taught about real-life scenarios. "Over the course of my program, my instructors have elevated the text and brought theories into real-life scenarios." The practical aspects of her learning have helped Ashley to "change and implement new programs in the workplace and become more efficient, reduce loss and boost employee morale."
The instructors go above and beyond with their teaching. "Whether it's early mornings or late nights, they'll answer that email as soon as they can, unlike in a typical face-to-face class."
Taking courses online also made it possible for Ashley to balance full-time school with full-time work, "and still live a life outdoors or travelling on the weekend. No sacrifices required."
Overall, Ashley's Continuing Education experience "has been so positive and life-changing, especially in tough economic times." She has made many business connections, life-long friends and found mentors throughout her learning journey with Continuing Education. Next up, Ashley is close to completing the Occupational Health and Safety Diploma on her way to pursuing the Canadian Registered Safety Professional (CRSP) designation.
Required fields are indicated by .