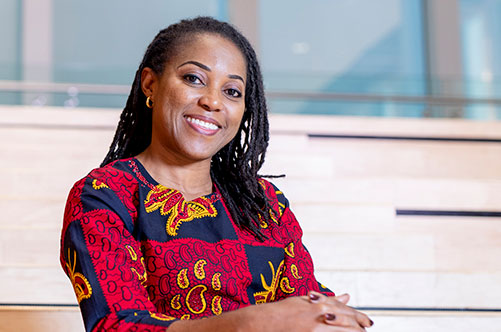 "While I was taking my classes, I felt like I was really there — in Canada — not in Nigeria," says Gloria Ken-Okoroafor, a recent graduate of the Teaching Second Language Certificate program - Level 1 - specializing in Teaching English as a Second Language.
After more than a decade of teaching English to children in her home country of Nigeria, Gloria wanted to find some new teaching strategies that could improve her students' fluency. She began searching for an affordable, online program from a reputable school in an English-speaking country. After exploring her options, Gloria chose UCalgary Continuing Education.
"The experience was very rewarding," says Gloria. "I enrolled for my students and because I wanted to brush up on my English language knowledge. I also wanted to learn to teach English to some of the support staff at my school — adults who are beginner to intermediate speakers of English."
Gloria is pleased to see her new teaching skills and strategies are working. She is seeing results in her classroom and has had successes with her adult learners. She has also been able to assist other teachers in the school.
"As I was learning, I was sharing ideas with my colleagues, so the other English teachers were learning at the same time. Sharing what I learned has been very helpful. It has made the English teachers in my school look like champions!"
While doing her courses, Gloria was faced with a seven-hour time difference.
"I was usually online when my classmates were asleep," she says. "I found the lessons well-structured and easy to navigate. Once I got started, it was smooth sailing!"
"The instructors were very considerate of the time difference, my different experiences and my life challenges. They always encouraged me to share on the forum."
"I was interacting with learners from different backgrounds and nationalities and I was able to pick up some new information about teaching from other parts of the world. This was very enlightening indeed."
To top off her online learning experience, Gloria travelled to Canada and completed her classroom practicum in Calgary.
Required fields are indicated by .