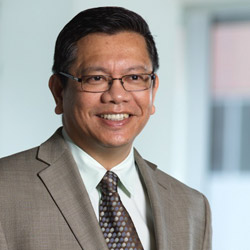 "For me, learning is like painting a wall; you just keep painting one layer over the other," says Rufran Frago, a recent graduate of the Certificate in Professional Management specializing in Construction Management.
Rufran, a professional mechanical engineer, came to Canada in 2001. Before immigrating, he lived in the Phillipines, but worked in the Mideast and North Africa. When he decided to immigrate to Canada, he saw it as a way to improve his family's life and have more time together.
When he arrived in Canada, Rufran found it difficult to secure his first position despite having a strong resume. He theorized that Canadian companies wanted employees with Canadian education and eventually landed a position in Fort McMurray with an American employer. Soon after starting to work in Fort McMurray, Rufran began taking courses at Keyano College. Several years later, Rufran secured employment with a Canadian oil and gas company based in Calgary and transferred some of his course credits to get a start on his first University of Calgary certificate program.
"I'm very happy with my company," he says. "And they are very supportive of my education."
Rufran has already gone on to work on a second certificate, Professional Management specializing in Risk Management.
He has taken classes both online and in the classroom, finding both to be equally satisfying and enjoyable, with excellent instruction.
"I have always found the instructors to be open minded - open to everyone's ideas and always open to discussion. I like that."
Taking one or two courses a year, Rufran pursues his education at a comfortable pace that allows him to meet his commitments at work and at home, which currently includes two personal writing projects. He has recently published a book on risk-based management and is working on the second one about time management.
"I believe my Continuing Education courses have helped me in my career. I have been able to apply what I've learned," he says. "As I see it, when you enrol in these programs, there is nothing for you to lose, but everything to gain, so why wouldn't you do it?"
Required fields are indicated by .