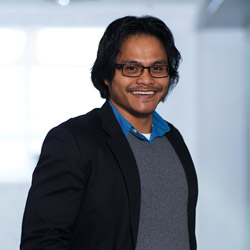 "The Strategic Management program has proven to be a very powerful resource for me. It's given me many tools to work with and has enabled me to do my job better," says Abel Pagaling, a 2013 graduate of the Certificate in Professional Management specializing in Strategic Management.
As the manager of a team of business analysts for a large insurance company in Calgary, Abel relies on many of the skills he's learned in his Continuing Education courses. They also come in handy in his small businesses, which currently include managing rental properties, and launching a new consulting firm. Strategic planning, recruiting and performance management are just some of the skills he plans to share as a consultant.
Fresh out of high school, Abel pursued mechanical engineering and, while working part-time, successfully completed several semesters towards his degree. He had only one year of studies left when his employer offered him full-time position in business analysis; he decided it was an opportunity he wanted to explore.
"I never went back to engineering. I came to realize that I'm more inclined towards business ... especially business analysis," says Abel.
Early in his business career, Abel chose to enroll in Continuing Education courses. One course in particular, Human Behavior in Business, had a real impact on him and led him to the certificate program in Leadership Development which he completed in June, 2009. From there, he went on to pursue a Certificate in Professional Management. He knows he'll be enrolling in another certificate program, but has yet to decide which one.
"I came to Continuing Education so I could continue learning ... to continue to develop myself professionally. I believe we should always keep learning," says Abel. "And I've had a great experience with the UofC Continuing Education program. Every course I've taken has been useful."
"I believe Continuing Education prepares you for real life in the business world," says Abel. "The case studies we use in class are actual real-life situations, sometimes involving millions of dollars. Working through these studies really helps you to expand your knowledge in business."
Although Abel has taken courses in the classroom and online, and can point to good points about both course delivery methods, he prefers the spontaneity of the live classroom.
"The discussions in class are great. Other students' spontaneous thoughts and opinions can really make you think," he says.
Making time for learning has been challenging for Abel. In addition to a full-time job, various business pursuits, Abel has a wife and three young children. "It's possible to do it all because my wife and I make a great team. You have to be a team. She's very supportive, and I'm grateful for that."
Required fields are indicated by .