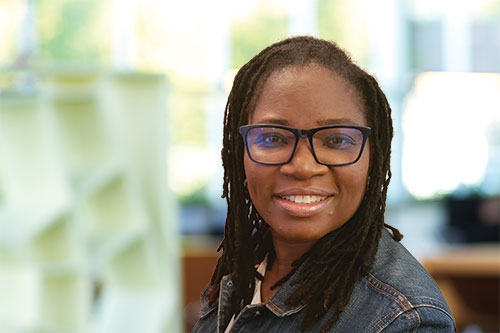 Uzoma Uponi's first novel was a finalist at an international writing competition. Before she began writing again she decided to get professional writing training and enrolled in the Creative Writing Certificate program with Continuing Education. She is currently working on her fourth novel.
The Creative Writing Certificate is offered completely online, giving Uzoma the flexibility she needed to complete the courses while working full time. This was her first online learning experience so she approached it with caution.
"The first course I had to take was how to use the online learning platform, which was an excellent introduction for me. After that, the technical challenges of the online learning experience were easy to tackle."
Uzoma described the course content as "comprehensive, robust and practical". She found all the instructors were knowledgeable in their specific subject area and were always available for consultation. "They were focused on ensuring the class had an excellent professional writing experience."
The final project in the program involves working one-on-one with a professional writer, an opportunity that was both exciting and a bit intimidating for Uzoma. "My mentor was very friendly and approachable. She edited my work closely and I learned more from her than I had ever learned from anyone else."
While she was completing the Creative Writing Certificate program Uzoma immediately used the skills she was learning to edit her second novel. "Completing the certificate program has given me a lot of self-confidence. I am currently in the process of publishing a third novel."
Required fields are indicated by .