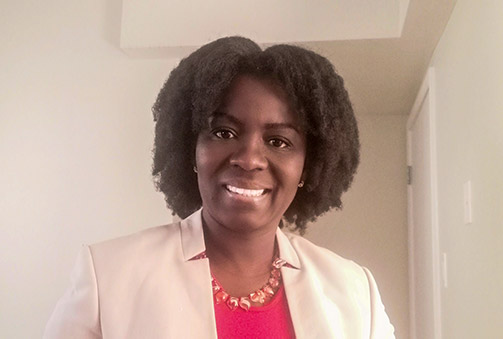 After working as a teacher and researcher in the University of Ghana for 15 years, Elaine Lawson wanted to work in the environmental field and learn more about Canadian regulations and compliance. She went looking for online training that were credible and flexible to help achieve her goals. Initially she was drawn to the Continuing Education Environmental Management Certificate, however, she decided to complete the Career and Academic Advising Certificate program and she is happy that she did.
She spent some time volunteering with a non-profit organization helping clients to complete career and employment assessments and to establish action plans towards employment. "I realised the program complements my educational credentials and I have other transferrable skills from my previous work experience."
This was Elaine's first time taking courses online and she found the learning management system easy to navigate and user friendly. She also liked that the system tracked her progress making it easy to know which tasks were still outstanding.
She found that her instructors were not only helpful and experienced in their fields but they also used tact and skill when giving feedback, an important aspect when the feedback is delivered online. She enjoyed reading the variations in thoughts on the discussion boards and meeting people from all over the world. And she found the classroom experience was interactive similarly to the physical classroom, particularly during group assignments.
Today Elaine employs the skills and knowledge she gained from her certificate every day in her role as a program coordinator. She is looking forward to more opportunities in the education and not-for-profit sectors.
Required fields are indicated by .