FIF 603
-
Forget Everything You Know About Stem Cells
16019558
UCalgary Continuing Education
Course Description
Stem cells are a hot topic for media discussion due to their potential in modern medicine. Learn the basics of stem cell biology, how stem cells are used, and where scientists hope they can be applied in the future. Discuss popular misconceptions, ethical concerns and the growing field of stem cell tourism. You will gain the knowledge foundation you need to make informed opinions regarding stem cells in health care policy, medical treatments and research.
Course Details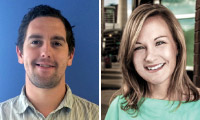 Instructor: Brad Day and Whitney Alpaugh, PhD Candidates
Brad Day is a PhD Candidate in the Department of Biochemistry and Molecular Biology at the University of Calgary. He has been performing stem cell research since 2010. Currently teaching UCalgary's aspiring scientists, he is passionate about teaching the general public and raising awareness about stem cells and current research.
Whitney Alpaugh is a PhD Candidate in the Department of Comparative Biology and Experimental Medicine at the University of Calgary. In 2011 she began studying reproductive stem cells. Whitney has been a teaching assistant for the graduate level course: Advanced Topics in Stem Cell Biology and has been actively involved with Stem Cell Talks Calgary which educates high school students about the promising field of stem cell research.
Required fields are indicated by .