Delivery Options: ONLINE
Course Schedule
This program is for anyone interested in exploring economic development training for professionals that create sustainable social solutions in communities. The program examines three key areas: economic development, business retention and expansion, and business and investment attraction. You will learn the foundational knowledge, tools, and resources needed for working within community economic development and with elected officials. Discover effective strategies to promote a healthy and thriving business community, and learn how to develop business investment strategies that will benefit your community.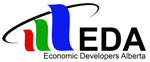 This short program is offered in cooperation with Economic Developers Alberta. It brings economic development training to Alberta professionals by combining the Community Economic Development courses offered by EDA into a joint program with UCalgary Continuing Education.
This program is perfect if you:
Are seeking training opportunities in the economic development area
Want to improve social conditions in communities
Are preparing to write the certification exam for EDAC's Ec.D professional certification
Are currently enrolled in or have already taken one or more of the Community Economic Development courses
Courses are delivered in online formats allowing you to complete your program at a pace that fits your needs and schedule. You should plan on studying and working approximately six hours per week per course.
Online learning is a learning option that caters to busy schedules by taking the learning experience out of the traditional classroom. It is learning that relies on the Internet for access to learning materials as well as interaction with instructors and fellow learners.
In most online courses, you will work within the scheduled start and end dates, and assignment timelines. Readings, assignments, and contributions will be required on a weekly basis. Graded assignments, participation marks, and sometimes exams contribute to your final letter-grade mark.
It is strongly recommended that you log into the University's online learning software three to four times per week to keep pace with the class. In most cases, the times you choose to work will be entirely up to you. Some online courses may require you to meet online with your class at specific times.
Before taking your first online course, it is recommended to take the free course, Digital Skills for Learning Online.
All Continuing Education programs have been developed with part-time learners in mind. Community Economic Development is a 45-hour program. Students are required to complete three courses comprising of 45 hours.
The length of time it takes to complete this program varies by student. If you have other significant time commitments and take only one course per term, you will likely complete the program in one year. If you are planning on taking multiple courses per term, you will complete the program faster.
A degree or diploma is not required to enrol in this program.
You must be a minimum of 18 years of age to be admitted. Successful completion of a Grade 12 diploma and relevant work experience are recommended. If English is not your first language, please review the English language proficiency requirements.
You can take courses first and enrol in the program later; however, as programs are subject to change, we recommend you apply for admission to the program as early as possible. The admission fee is $105. Once you are admitted, you can be confident that you have locked in the requirements leading to your graduation.
The approximate cost to complete this program is $1,380 including the cost of admission.
Apply for Admission
On completion of one program, you may wish to pursue studies in another.
On completion of this program, a student may receive credit from these courses. Credits for Community Economic Development program courses equals 2/3 of the instruction hours to a maximum of 30 hours towards the Certificate in Professional Management – Economic Developers.
If you wish to pursue another program please complete the Application for Admission, and contact us requesting transfer of the equivalent course credits, or contact a student advisor for assistance at 403-220-2866. You must request the transfer of the equivalent course credits to apply to your next program.?This will not happen without your request.
It is the student's responsibility to ensure all requirements for graduation are fulfilled, and to apply to graduate.
View our Graduation page for details.
This program is not eligible for application for a study permit. International students who wish to live and work in Canada should see our International Professional Programs.