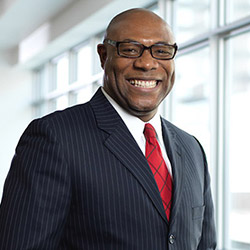 When Franklin Asprilla, an economist from Colombia, moved to Calgary in 2010 with his wife and daughter, he had high hopes for their lives in Canada.
"We came because I wanted better life conditions for my family," he says. "And, I knew Canada was a warm country that opened its doors to immigrants."
Once Franklin arrived, he began looking for work. He was well educated with a Master's Degree in Business from his country and had years of business experience.
"My English was poor at first, so in interviews, they would recognize my skills and experience but always encouraged me to take some education in Canada," Franklin says. "It meant sacrificing time with my family, but I realized it was something I had to do to improve my language skills and to learn the Canadian business culture."
After researching educational programs in Calgary, Franklin decided Continuing Education's Certificate in Professional Management specializing in Strategic Management would be the best choice for him. He was thrilled to discover he could take the certificate courses in the evenings, which meant he could still work in the day and continue taking English classes at the Public Library on Saturdays.
"The first course I took was difficult for me, but in the second course, I was able to participate more, and shared some of my own experiences and background in class," he says. "Very soon, I was able to put my school work into practice in my job."
"My courses gave me the skills to understand Canadian culture and the ways of business. They were very helpful, and I was really impressed with the quality of the teaching, and the course content. This institution has helped me get established in this country."
"I have learned to love Canada," says Franklin, who adds that his wife and daughter have also adjusted to the culture and have improved their English skills. Today, he works as a pricing analyst with a large retail company, and plans to continue working hard and furthering his career.
"Now, Canada is my home. From the bottom of my heart, I love this country and the people. Everyone has been wonderful."